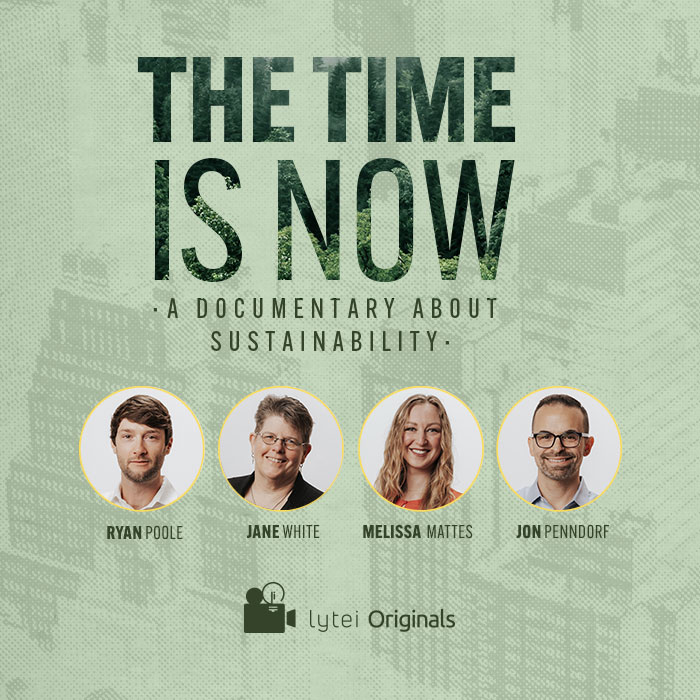 A Documentary About Sustainability Featuring Jane White, – President of Finelite
(Union City, CA) April, 2022 - Finelite, Inc., a recognized leader in energy-efficient lighting systems for offices, educational, and healthcare facilities, is pleased to announce the launch of Lytei Originals Presents "The Time Is Now,"," a documentary about sustainability featuring Jane White, - President of Finelite.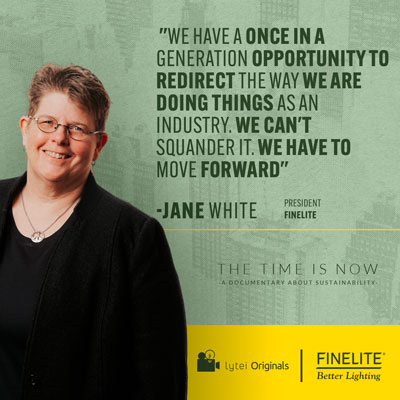 "The amazing and talented Lytei crew did a world class job capturing a call to action for our whole industry and shining light on this world changing topic," said Jane White, – President of Finelite. "We must take action as an industry and as a society to help the planet. Sustainability is not just the next big story, but our responsibility."
In the 23-minute documentary, Lytei and various industry experts discuss what we can do as an industry to limit our embodied carbons.
Lytei is the digital hub for education in the design industry, empowering light ideas and driving inspiration. As a neutral platform focus on the facts and stories behind people, places, product development, and the transformation of design in the architectural lighting industry.
Featuring:
Jane White, President, Finelite
Jon Penndorf, Associate Principal, Perkins &Will
Melissa Mattes, Senior Designer, Sladen Feinstein Integrated Lighting
Ryan Poole, Global Sustainability Leader, DPR Construction
About Finelite
Finelite, an independent business of Legrand, has delivered award-winning innovations in lighting technology, design, manufacturing, and customer service for over twenty-five years. Finelite's core mission is to deliver tailored lighting solutions for office, healthcare, educational, multi-level residential and retail market segments. Setting new standards for performance and sustainability, Finelite continues to work in partnerships with California Energy Commission, New York State Energy Research Development Authority, and others to develop best practices in lighting strategies to achieve maximum value. At Finelite's U.S.-based manufacturing facility, they continuously examine ways to eliminate waste through product design, lean manufacturing, corporate practices, and have been nationally recognized for these sustainability efforts.
About Legrand and Legrand, North and Central America
Legrand is a global specialist in electrical and digital building infrastructures. Its comprehensive offering of solutions for use in commercial, industrial, and residential markets makes it a benchmark for customers worldwide. Innovation for a steady flow of new products with high added value is a prime vector for growth, including, in particular, connected devices stemming from Legrand's global ELIOT (Electricity and IOT) program. Legrand reported sales of $5.6 billion in 2016. Legrand has a strong presence in North and Central America, with a portfolio of well-known market brands and product lines that includes AFCO Systems, C2G, Cablofil, Chief, Da-Lite, Electrorack, Finelite, Focal Point, Kenall Manufacturing, Luxul, Middle Atlantic Products, Milestone AV, Nuvo, OCL, On-Q, Ortronics, Pass & Seymour, Pinnacle, Projecta, QMotion, Quiktron, Raritan, Sanus, Server Technology, Solarfective, Vaddio, Vantage, Wattstopper, and Wiremold. Legrand is listed on Euronext Paris and is a component stock of indexes including the CAC40, FTSE4Good, MSCI World, ASPI, Corporate Oekom Rating, and DJSI (ISIN code FR0010307819) www.legrand.us.
To learn more about Legrand North and Central America, visit http://www.legrand.us.