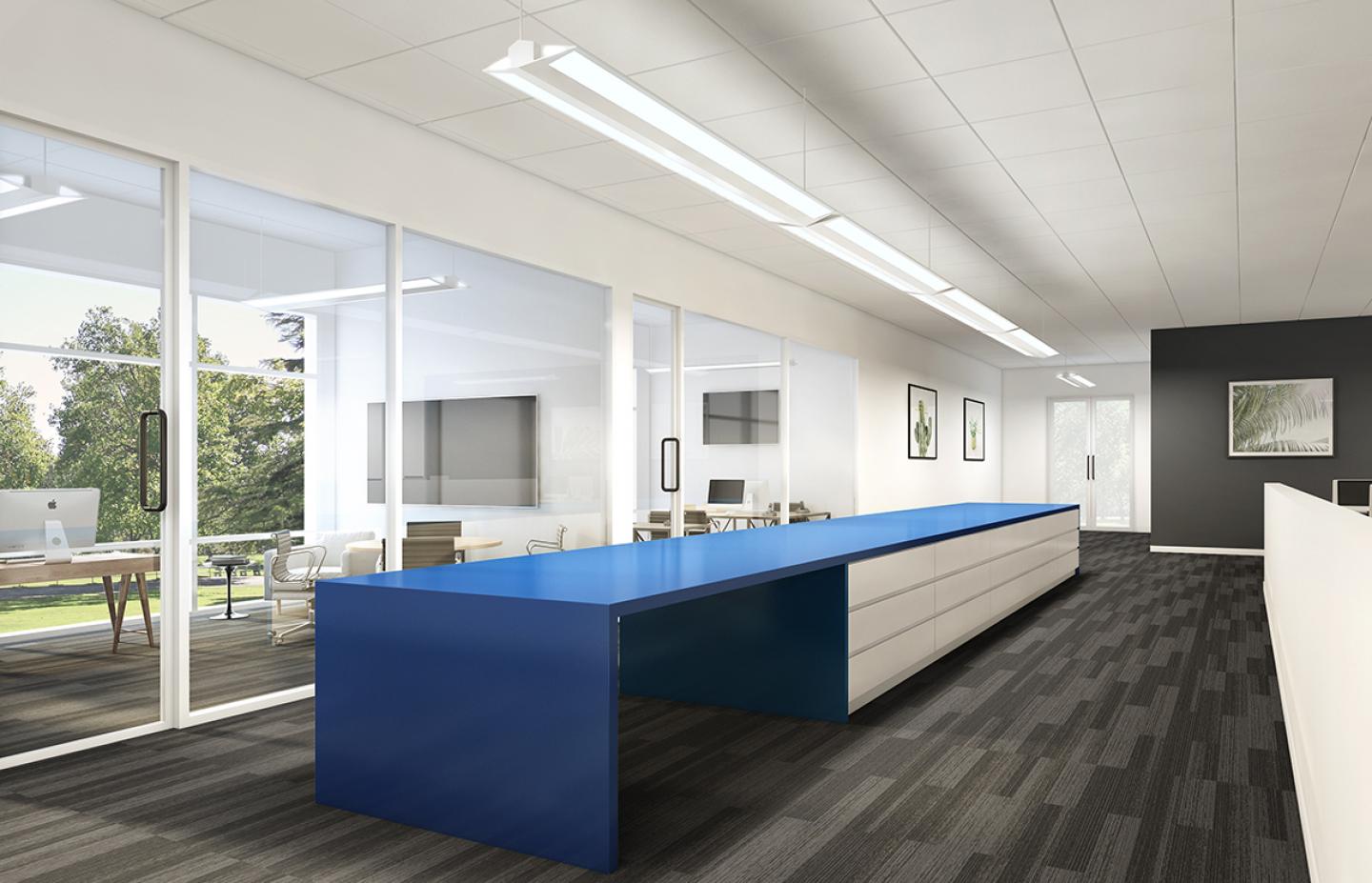 A Perfect Balance of Form and Function
(Union City, CA) November, 2020 – Finelite, Inc., a leader in energy-efficient lighting for offices, healthcare, and educational facilities, is pleased to announce the new high-performance Series 19 pendant luminaire.
Series 19 (S19) displays a unique aesthetic and remarkable performance at an affordable cost. The high performance and optical design allows specifiers the ability to create affordable, efficient, and visually appealing designs. The ability to tailor light outputs and color temperatures increase the flexibility in achieve project specifications goals.
Ideal for applications where lower ceiling heights are present, S19 can be suspended 18" from the ceiling while still delivering a wide indirect distribution making it a perfect luminaire type for education and commercial office applications with varying ceiling heights. The wide uniform distribution and 18-foot spacing capabilities provide proper illumination with fewer fixture that reduce material and installation cost.
The unique pin point form factor of the S19 presents visual interest and clean lines from many different viewing angles. To enhance the form factor, S19 also is equipped with a transparent cast endcap and displays a subtle glow that is free of any visible hardware.
Featuring a high-performance optical design, the S19 delivers indirect/direct widespread illumination. The incorporated double diffused lens softens the illumination especially noticeable when near vertical surfaces.
Engineered with contractors in mind, the fully assembled S19 is equipped with plug together wiring and an integral driver that reduces installation time and cost. The UL 924 fixture rating increases flexibility leading to fewer power feeds and faster installation. S19 gives designers the ability to tailor light outputs, color temperatures, and integrate various control strategies to achieve project specifications and goals.
When asked why Series 19 was created, Product Manager at Finelite, Marc McMillan said, "Series 19 delivers on both aesthetics and performance, we listened to the needs of our rep partners and the specifying community and created a solution based around their input."
S19 is a third-party verified Red List Approved through the International Living Future Institute (ILFI) Declare 2.0 expanding Finelite's sustainable and healthy product portfolio.
Series 19 features:
Up to 4660 lumens per 4' section

Up to 142 lumens per watt
Delivering the Finelite Difference
10-year performance-based warranty

10-working day shipping on standard orders

Dimming standard

Replaceable LED light array

Shares the same LED technology as our other LED luminaires for consistency across luminaire families