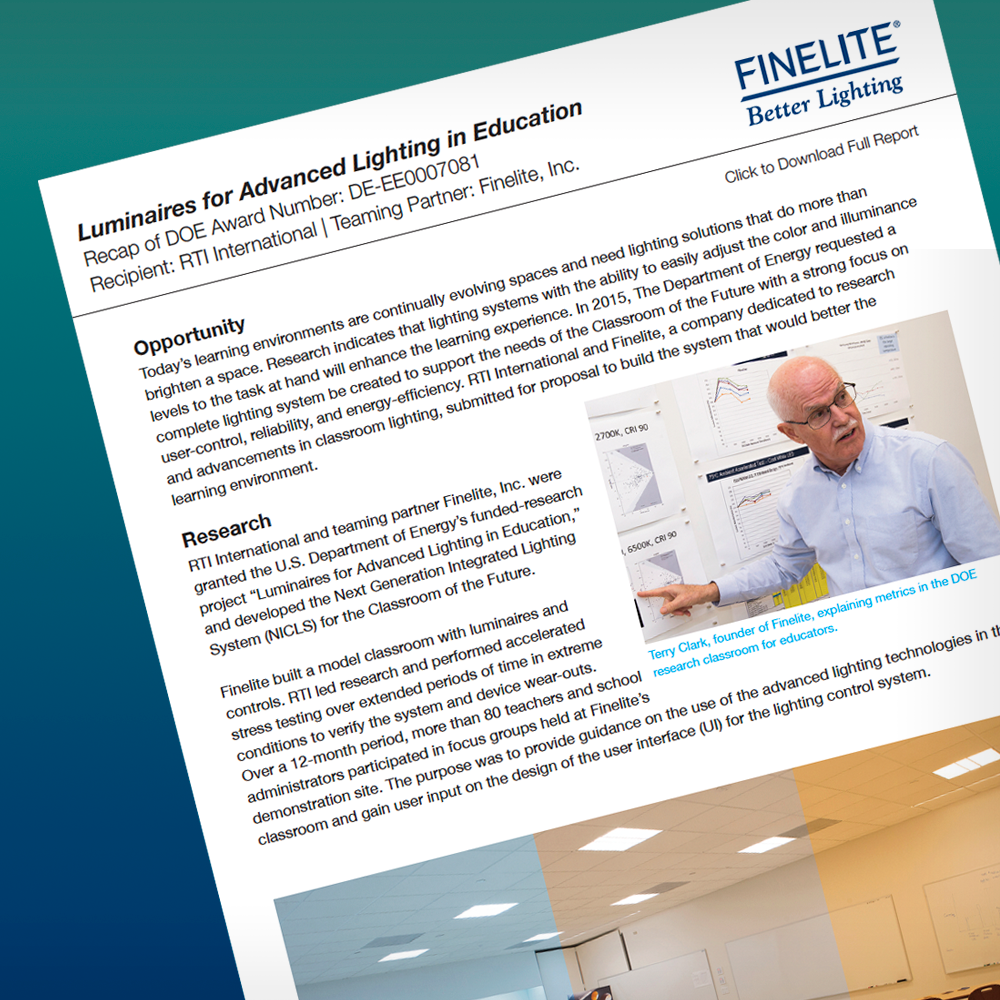 Recap of DOE Award Number: DE-EE0007081
Recipient: RTI International | Teaming Partner: Finelite, Inc.
Opportunity
Today's learning environments are continually evolving spaces and need lighting solutions that do more than brighten a space. Research indicates that lighting systems with the ability to easily adjust the color and illuminance levels to the task at hand will enhance the learning experience. In 2015, The Department of Energy requested a complete lighting system be created to support the needs of the Classroom of the Future with a strong focus on user-control, reliability, and energy-efficiency. RTI International and Finelite, a company dedicated to research and advancements in classroom lighting, submitted for proposal to build the system that would better the learning environment.
Research
RTI International and teaming partner Finelite, Inc. we regranted the U.S. Department of Energy's funded-research project "Luminaires for Advanced Lighting in Education," and developed the Next Generation Integrated LightingSystem (NICLS) for the Classroom of the Future.
Finelite built a model classroom with luminaires and controls. RTI led research and performed accelerated stress testing over extended periods of time in extreme conditions to verify the system and device wear-outs. Over a 12-month period, more than 80 teachers and school administrators participated in focus groups held at Finelite's demonstration site. The purpose was to provide guidance on the use of advanced lighting technologies in the classroom and gain user input on the design of the user interface (UI) for the lighting control system.
Download the DOE White Paper to learn more.