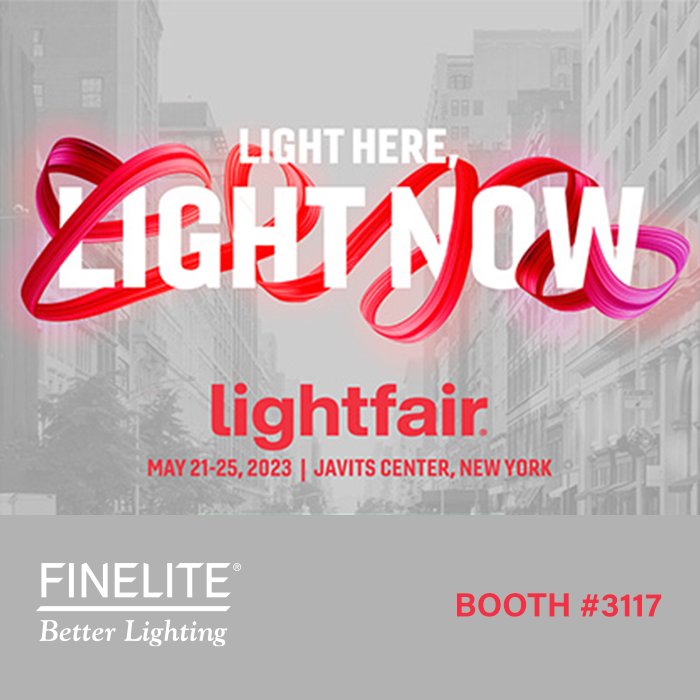 (Union City, CA) June 2023 - Finelite, Inc., a recognized leader in energy-efficient lighting systems for offices, educational, and healthcare facilities, is pleased to share highlights of the company's first time exhibiting at Lightfair, North America's largest architectural and commercial lighting trade show and conference.
Products on Display
We showcased several newly introduced collections that are highly sustainable, tailorable, and easy to install, including:
Coverage Highlights
HP-2 Micro Louver – Just One Product


Aaron Smith, VP of Product Research & Development, shares all the great features of this low glare luminaire.
Video courtesy of Inside Lighting
8th Annual Lifetime Achievement Awards Speeches


Lifetime Achievement Awards – The first honoree was Mark Benguerel, of Finelite who was introduced by Finelite Sales Manager, Melinda Beltz.
Former Finelite senior executive, Mark Benguerel was a key member of Finelite's executive management team for over 20 years. Through his passion, operational expertise, and knowledge sharing, Mark continually elevated industry best practices and Finelite's commitment to better lighting.
Video courtesy of EdisonReport
EdisonReport – LightFair Day 2: Creative Booth Designs, Exhibitor Reactions, and the Best Product of the Show
"While acknowledging the spectacular design of the WAC booth, your humble editor believes that Legrand deserved the best booth award for seamlessly integrating their independent brands into one booth while maintaining their individual identities."
C-Suite Beats at Lightfair 2023
Tom Lowery, President of Legrand, sat down with Editor Randy Reid to discuss his experience attending LightFair this year, the successful operation of Legrand's branches as independent entities, recent acquisitions made by the company, and other more.
About Finelite
Finelite, an independent business of Legrand, has delivered award-winning and sustainable innovations in lighting technology, design, manufacturing, and customer service for over thirty years. Finelite's core mission is to deliver tailored lighting solutions for office, healthcare, educational, multi-level residential and retail market segments. Setting new standards for performance and sustainability, Finelite continues to work in partnerships with California Energy Commission, New York State Energy Research Development Authority, and others to develop best practices in lighting strategies to achieve maximum value. At Finelite's U.S.-based manufacturing facility, they continuously examine ways to eliminate waste through product design, lean manufacturing, corporate practices, and have been nationally recognized for these sustainability efforts.
About Legrand and Legrand, North and Central America
Legrand is the global specialist in electrical and digital building infrastructures. Its comprehensive offering of solutions for commercial, industrial, and residential markets makes it a benchmark for customers worldwide. The Group harnesses technological and societal trends with lasting impacts on buildings with the purpose of improving life by transforming the spaces where people live, work and meet with electrical, digital infrastructures and connected solutions that are simple, innovative and sustainable. Drawing on an approach that involves all teams and stakeholders, Legrand is pursuing its strategy of profitable and responsible growth driven by acquisitions and innovation, with a steady flow of new offerings—including products with enhanced value in use (faster expanding segments: data centers, connected offerings and energy efficiency programs). Legrand reported sales of €7.0 billion in 2021. The company is listed on Euronext Paris and is notably a component stock of the CAC 40 and CAC 40 ESG indexes. (code ISIN FR0010307819). www.legrand.us.