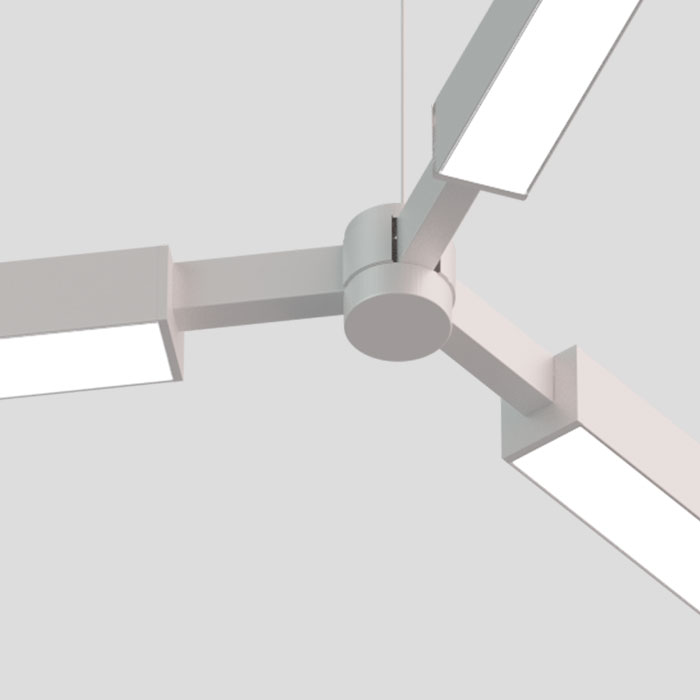 Delivering More Creative Flexibility
(Union City, CA) February, 2023 — Finelite, Inc., a recognized leader in energy-efficient lighting systems for offices, educational, and healthcare facilities, is pleased to announce the launch of its new Knuckle option for HPO and HPX pendants.
"This new option gives extreme flexibility and allows designers the ability to create unique lighting layouts by adding configurations and angles," said Marc McMillan - Finelite S/B Senior Product Manager. "We listened to lighting community and the addition of Knuckle was the perfect progression for our micro form factor HPO and HPX Collections."
Knuckle is an extruded aluminum connector piece that allows luminaires to be joined together to create a variety of unique angles and standard configuration including squares, rectangles, diamonds, t-intersections, triangles, hexagons, octagons, and more that ship in 10 working days. Knuckle also allows for custom options with an extended lead time.
Engineered with contractors in mind, Knuckle features plug-together wiring and is designed to support suspension cabling and power feeds. Each Knuckle also provides 10º Left and 10º Right adjustability for added on-site flexibility easing the installation experience.
HPO and HPX are third-party verified Red List Approved through the International Living Future Institute (ILFI) Declare 2.0 expanding Finelite's sustainable and healthy product portfolio.
Knuckle Features
Designed to accommodate suspension and power
On-site flexibility with 10 degrees Right and 10 degrees Left adjustability
Variety of standard configurations and angles in 10-Working Day shipping
Custom configurations and angles available
HPO Features
Title 24 JA8 Compliant and DLC Listed
3.5" micro round form factor with integral driver and 2.5" round or flush lens aperture
Up to 8516 lumens per 4' section and up to 125 lumens per watt
HPX Features
Title 24 JA8 Compliant and DLC Listed
2.5" micro square form with integral driver
Up to 8228 lumens per 4' section and up to 125 lumens per watt
About Finelite
Finelite, an independent business of Legrand, has delivered award-winning and sustainable innovations in lighting technology, design, manufacturing, and customer service for over thirty years. Finelite's core mission is to deliver tailored lighting solutions for office, healthcare, educational, multi-level residential and retail market segments. Setting new standards for performance and sustainability, Finelite continues to work in partnerships with California Energy Commission, New York State Energy Research Development Authority, and others to develop best practices in lighting strategies to achieve maximum value. At Finelite's U.S.-based manufacturing facility, they continuously examine ways to eliminate waste through product design, lean manufacturing, corporate practices, and have been nationally recognized for these sustainability efforts.
About Legrand and Legrand, North and Central America
Legrand is the global specialist in electrical and digital building infrastructures. Its comprehensive offering of solutions for commercial, industrial, and residential markets makes it a benchmark for customers worldwide. The Group harnesses technological and societal trends with lasting impacts on buildings with the purpose of improving life by transforming the spaces where people live, work and meet with electrical, digital infrastructures and connected solutions that are simple, innovative and sustainable. Drawing on an approach that involves all teams and stakeholders, Legrand is pursuing its strategy of profitable and responsible growth driven by acquisitions and innovation, with a steady flow of new offerings—including products with enhanced value in use (faster expanding segments: data centers, connected offerings and energy efficiency programs). Legrand reported sales of €7.0 billion in 2021. The company is listed on Euronext Paris and is notably a component stock of the CAC 40 and CAC 40 ESG indexes. (code ISIN FR0010307819). www.legrand.us.