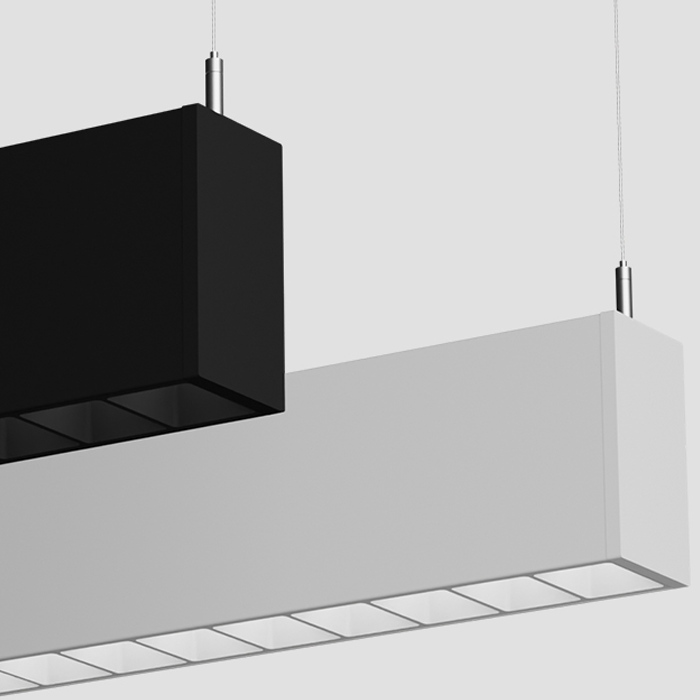 Enhancing visual comfort and maximizing glare control
(Union City, CA) February, 2023 — Finelite, Inc., a recognized leader in energy-efficient lighting systems for offices, educational, and healthcare facilities, is pleased to announce the launch of HP-2 Micro Louver expanding the award-winning 2-inch aperture collection.
"Consistent with the Finelite promise of Better Lighting, this new option increases occupant comfort," said David Gentry - Finelite Senior Product Manager. "We listened to the lighting community and developed a refined low-glare solution for our HP-2 Collection."
The HP-2 Micro Louver features an advanced optical design to maximize glare control and enhance visual comfort. The HP-2 Micro Louver provides a unique downlight aesthetic with an architectural grade appearance available in both Black and White finishes.
Micro Louver features a deep 1" recessed louver design that shields the light source and provides superior visual cutoff with omni-directional glare control. Utilizing a unique LED board design, each Micro Louver cell is illuminated by a cluster of LEDs engineered to deliver uniform lighting, free of color defects or striation artifacts.
Each Micro Louver is comprised of 8 cells totaling 1' in length and are available in continuous runs and independent segments tailorable in 1' increments. To allow for design flexibility, HP-2 Micro Louver can be paired with Blank (non-illuminated) or Illuminated sections within the same luminaire.
This new addition of Micro Louvers supports WELL V2 LO4 Electrical Lighting Glare Control and minimizes luminance values above the 45-degree viewing angle which reduces eyestrain while supporting task performance and occupant comfort.
HP-2 Micro Louver Features:
Unified Glare Rating (UGR): Black Finish UGR as low as 10 – White Finish UGR as low as 13
10-Working Day Shipping
Pendant, Recessed, and Surface Mount
About Finelite
Finelite, an independent business of Legrand, has delivered award-winning and sustainable innovations in lighting technology, design, manufacturing, and customer service for over thirty years. Finelite's core mission is to deliver tailored lighting solutions for office, healthcare, educational, multi-level residential and retail market segments. Setting new standards for performance and sustainability, Finelite continues to work in partnerships with California Energy Commission, New York State Energy Research Development Authority, and others to develop best practices in lighting strategies to achieve maximum value. At Finelite's U.S.-based manufacturing facility, they continuously examine ways to eliminate waste through product design, lean manufacturing, corporate practices, and have been nationally recognized for these sustainability efforts.
About Legrand and Legrand, North and Central America
Legrand is the global specialist in electrical and digital building infrastructures. Its comprehensive offering of solutions for commercial, industrial, and residential markets makes it a benchmark for customers worldwide. The Group harnesses technological and societal trends with lasting impacts on buildings with the purpose of improving life by transforming the spaces where people live, work and meet with electrical, digital infrastructures and connected solutions that are simple, innovative and sustainable. Drawing on an approach that involves all teams and stakeholders, Legrand is pursuing its strategy of profitable and responsible growth driven by acquisitions and innovation, with a steady flow of new offerings—including products with enhanced value in use (faster expanding segments: data centers, connected offerings and energy efficiency programs). Legrand reported sales of €7.0 billion in 2021. The company is listed on Euronext Paris and is notably a component stock of the CAC 40 and CAC 40 ESG indexes. (code ISIN FR0010307819). www.legrand.us.