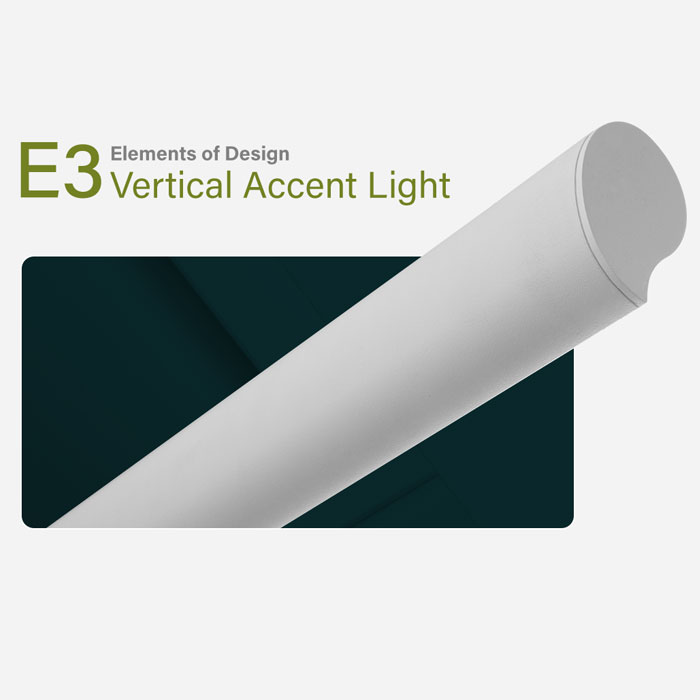 Finelite Expands Elements of Design Collection with E3
A Slim Accent Luminaire for Vertical Surfaces
(Union City, CA) May, 2022 - Finelite, Inc., a recognized leader in energy-efficient lighting systems for offices, educational, and healthcare facilities, is pleased to announce the launch of E3.
"E3 is a new solution that provides specifiers the ability to efficiently and effectively light vertical surfaces," said George Ehigiator - Finelite Product Manager. "The addition of a slim accent luminaire strengthens our Elements of Design Collection and is an excellent choice for use in Task, Vertical, Ambient lighting design schemes."
E3 is a slim LED accent luminaire that delivers uniform illumination with asymmetric distribution intended for highlighting vertical surfaces and wall mounted elements. The teardrop form factor of E3 adds character to the environment and features a remote power supply which helps maintain the minimal aesthetic.
Providing creative flexibility to complement the interior floor plan, E3 is engineered to accommodate both Pendant or Arm Mount applications and is available in 2', 4', 6', and 8' independent section lengths. The E3 Pendant provides the ability to mount the luminaire into desired locations by utilizing a unique adjustable mounting point design. This accent luminaire shares the same LED technology used across the Finelite portfolio which provides appearance consistency across luminaire families.
E3 is third-party verified Red List Approved through the International Living Future Institute (ILFI) Declare 2.0 expanding Finelite's sustainable and healthy product portfolio.
E3 Performance Features:
Very High Output – 4' Luminaire
Efficacy: 109 lumens per watt
Total Light Output: 2129 lumens
Delivering the Finelite Difference:
10-working-day shipping
10-year performance based warranty
90% of initial light output at 100,000 hours
Dimming standard & replaceable LED light array
About Finelite
Finelite, an independent business of Legrand, has delivered award-winning innovations in lighting technology, design, manufacturing, and customer service for over twenty-five years. Finelite's core mission is to deliver tailored lighting solutions for office, healthcare, educational, multi-level residential and retail market segments. Setting new standards for performance and sustainability, Finelite continues to work in partnerships with California Energy Commission, New York State Energy Research Development Authority, and others to develop best practices in lighting strategies to achieve maximum value. At Finelite's U.S.-based manufacturing facility, they continuously examine ways to eliminate waste through product design, lean manufacturing, corporate practices, and have been nationally recognized for these sustainability efforts.
About Legrand and Legrand, North and Central America
Legrand is a global specialist in electrical and digital building infrastructures. Its comprehensive offering of solutions for use in commercial, industrial, and residential markets makes it a benchmark for customers worldwide. Innovation for a steady flow of new products with high added value is a prime vector for growth, including, in particular, connected devices stemming from Legrand's global ELIOT (Electricity and IOT) program. Legrand reported sales of $5.6 billion in 2016. Legrand has a strong presence in North and Central America, with a portfolio of well-known market brands and product lines that includes AFCO Systems, C2G, Cablofil, Chief, Da-Lite, Electrorack, Finelite, Focal Point, Kenall Manufacturing, Luxul, Middle Atlantic Products, Milestone AV, Nuvo, OCL, On-Q, Ortronics, Pass & Seymour, Pinnacle, Projecta, QMotion, Quiktron, Raritan, Sanus, Server Technology, Solarfective, Vaddio, Vantage, Wattstopper, and Wiremold. Legrand is listed on Euronext Paris and is a component stock of indexes including the CAC40, FTSE4Good, MSCI World, ASPI, Corporate Oekom Rating, and DJSI (ISIN code FR0010307819) www.legrand.us.