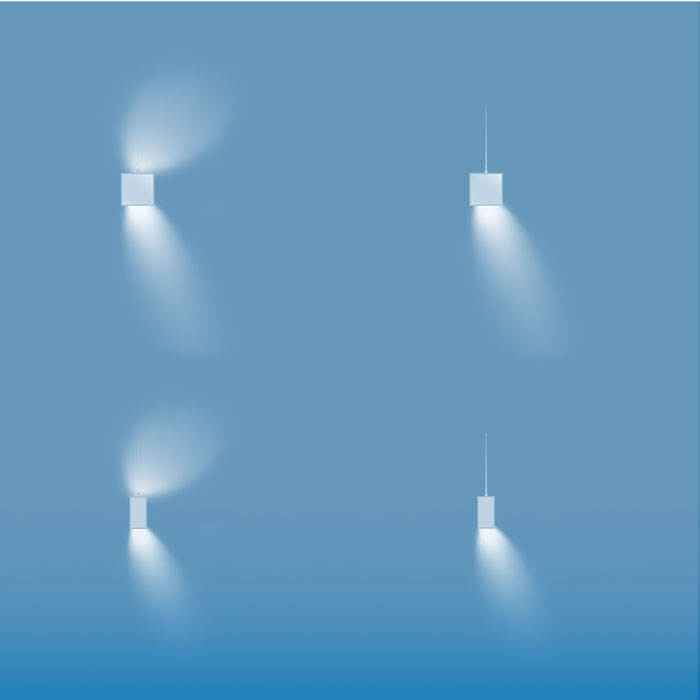 Delivering A Better Downlight Experience
(Union City, CA) September, 2021 - Finelite, Inc., a recognized leader in energy-efficient lighting systems for offices, educational, and healthcare facilities, is pleased to announce the launch of Downlight Asymmetric Optic (DAO) for the High Performance HP-2 and HP-4 Collections.
The DAO technology gives designers a new tool to better illuminate interior applications. By offering both left and right options, DAO provides the ability to aim light in a particular direction. DAO is an ideal solution for when fill light is needed in a space or to highlight vertical surfaces
In 2020, Finelite introduces Downlight Spread Optic (DSO) to the popular HP-4 collection. The same DSO technology was recently utilized and integrated into the HP-2 collection which provides a wide batwing distribution that's enhances downlight uniformity. With noticeably wider distributions than standard lambertian, the DSO option allows for fewer and wider spaced luminaires, resulting in reduced installation and luminaire cost.
Both DAO and DSO provide outstanding performance with smooth surface brightness delivering a better downlight experience. Designed with installing contractors in mind, DAO and DSO can be installed in the field to replace existing standard flush lenses if and when there is a change in lighting needs.
Delivering the Finelite Difference
10-working-day shipping

10-year performance based warranty

Dimming standard

Replaceable LED light array

Shares the same LED technology as our other LED luminaires for consistency across luminaire families
About Finelite
Finelite, an independent business of Legrand, has delivered award-winning innovations in lighting technology, design, manufacturing, and customer service for over twenty-five years. Finelite's core mission is to deliver tailored lighting solutions for office, healthcare, educational, multi-level residential and retail market segments. Setting new standards for performance and sustainability, Finelite continues to work in partnerships with California Energy Commission, New York State Energy Research Development Authority, and others to develop best practices in lighting strategies to achieve maximum value. At Finelite's U.S.-based manufacturing facility, they continuously examine ways to eliminate waste through product design, lean manufacturing, corporate practices, and have been nationally recognized for these sustainability efforts.
About Legrand and Legrand, North and Central America
Legrand is a global specialist in electrical and digital building infrastructures. Its comprehensive offering of solutions for use in commercial, industrial, and residential markets makes it a benchmark for customers worldwide. Innovation for a steady flow of new products with high added value is a prime vector for growth, including, in particular, connected devices stemming from Legrand's global ELIOT (Electricity and IOT) program. Legrand reported sales of $5.6 billion in 2016. Legrand has a strong presence in North and Central America, with a portfolio of well-known market brands and product lines that includes AFCO Systems, C2G, Cablofil, Chief, Da-Lite, Electrorack, Finelite, Focal Point, Kenall Manufacturing, Luxul, Middle Atlantic Products, Milestone AV, Nuvo, OCL, On-Q, Ortronics, Pass & Seymour, Pinnacle, Projecta, QMotion, Quiktron, Raritan, Sanus, Server Technology, Solarfective, Vaddio, Vantage, Wattstopper, and Wiremold. Legrand is listed on Euronext Paris and is a component stock of indexes including the CAC40, FTSE4Good, MSCI World, ASPI, Corporate Oekom Rating, and DJSI (ISIN code FR0010307819) https://www.legrand.us.